Semi-Frameless Shower Doors
A semi-frameless shower enclosure is built to last! This is a very traditional style option with an aluminum frame around the shower opening. This frame provides support and prevents water from leaking out. Semi-frameless shower enclosures are also a great option if you still want to achieve a sleek appearance, but are also working with a budget or design constraints.
We offer easy installation and a wide variety of shower door options. From simple to creative, you may select from varying glass textures, colors, and thickness to make a semi-frameless enclosure a perfect fit. We'll provide an elegant finish to your bathroom at a highly competitive price.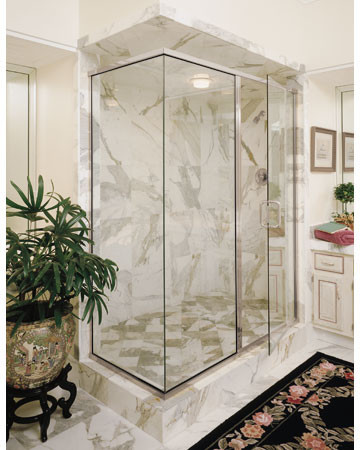 Semi-Frameless Door, Inline Panel, and Return with Brushed Nickel Hardware
This is only one option of many for a stunning bathroom finish. This semi-frameless door provides a sturdy structural support with no bulk. Enjoy this shower for years to come!